The terms 'taylor-made' and 'design-addict' get a whole new meaning in this dream of a design domicile, giving Tel Aviv's oldest neighborhood a contemporary edge. Nestled among neighbours in Ottoman-era style homes, this modern six-storey building was developed by Oren Yonanov and a group of friends creating a 'contemporary collective' where they each inhabit their own floor.
The smell of fresh paint still lingers in the brand-new 4th floor apartment overlooking one of the world's oldest cities, Jaffa. Last year, Oren Yonanov and Michal Afori and their two children made this 180 m2 apartment their new home. What made them leave their three-storey traditional stone house and move 100 meters up the street and into this one level, state of the art apartment was the view to Tel Aviv's main asset – its 14 km shoreline. The floor to ceiling windows and two big terraces make for an airy home benefitting from the panorama view of red rooftops and blue horizon.  Only two minutes away you can swim in the Mediterranean and experience one of the cultural institutions of Tel Aviv – going to the beach. Add to that the buzzing café scene and vibrant nightlife, and you will why this modern Jewish metropolis is called 'the city that never stops' and why Oren Yonayov couldn't imagine living anywhere else.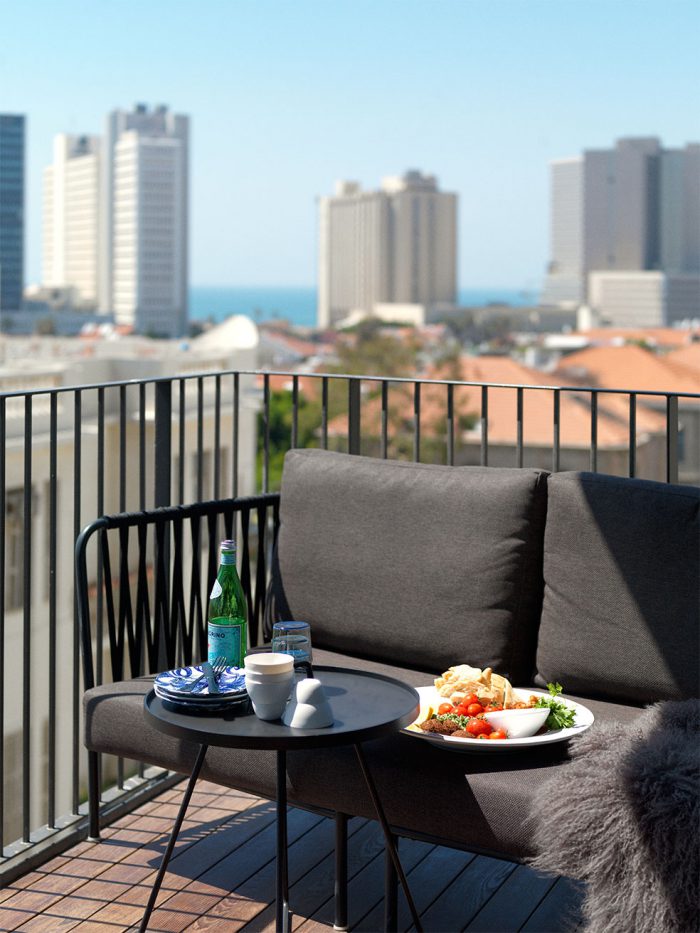 The area, building and construction
'Neveh Tzedek' translates to the 'Oasis of Justice' was the first Jewish quarter in Tel Aviv founded in 1887.  Known for its Ottoman-era style, it holds a sensation of old Tel Aviv bordering the world's richest concentration of Bauhaus buildings known as the 'White City'. Today, the quarter is an artistic and culinary hub where boutique hotels, dance studios, galleries and jewelry shops lie side by side. After decades of neglect, the area has become a magnet for young Tel Avivians and keen investors. With strong roots in the Neveh Tzedek area, Oren immediately seized the opportunity when the perfect plot on Yehuda Halevi street in the heart of the neighborhood became available six years ago. "I knew that if I wanted a home that was truly mine, I had to make it myself, from start to finish. And I had the pleasure of involving some of my best friends in the project as they bought the other floors," says Oren. And who better to commission than Israeli architect, Bar Orian, known for his urban renewal in Tel Aviv and vast renovations of its Bauhaus architecture. The architecture is modern, yet with a respect for the historic characteristics of the quarter; the sandy colour of the building and its brown wooden shutters. The construction of the building took six years and today, Oren and his five best friends can call it their home.
The apartment
Nothing is left to arbitrary in the 180 m2 apartment, which is divided between an open space kitchen and living room, three bathrooms, three bedrooms and two terraces. "Compared to my former three-storey house, it's a relief not having any stairs. It's freedom both for me and for the kids. Living on the 4th floor suits me perfectly, it's the ideal height for a perfect view. I don't like high-rises. My vision was a loft-style home developed with design-driven details and a quest for quality. I wanted one open space which is why my home has no doors," Oren explains.
It is the change in materials that mark the line between the different rooms in the apartment. Glass cabinets surround the bedroom within which the bathroom stands and as solid marble box. The living room is encased with steel shelving and the kitchen is surrounded by naked concrete walls and a loft fans and visible pipes and cables support the vision of an industrial style loft. Twelve meters of wooden cabinets specially made from Japanese bamboo parallels the long kitchen island.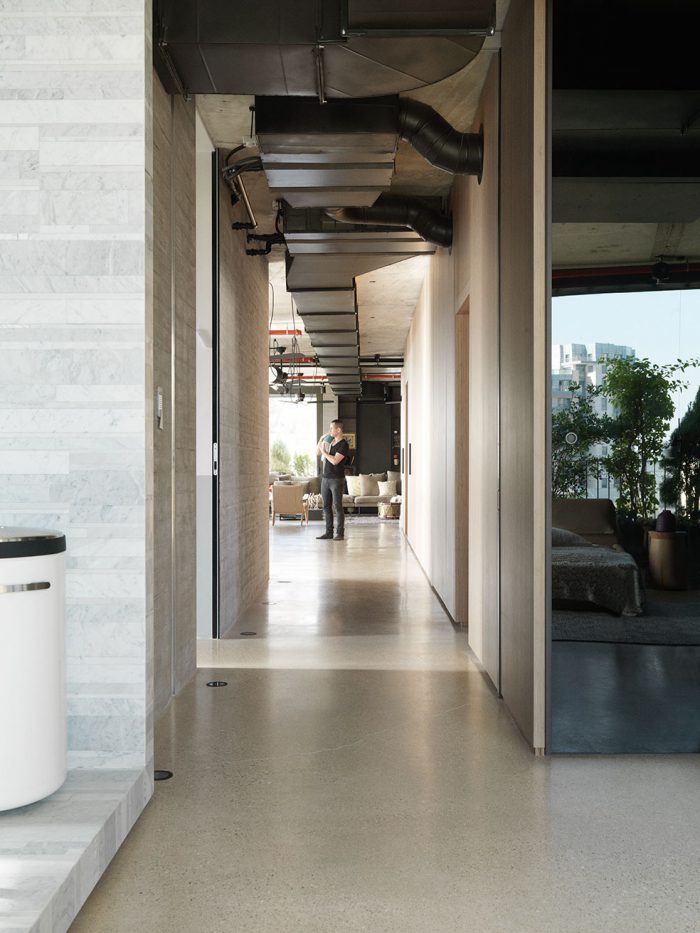 The kitchen
"I have two big passions in life – fashion and food. So I opted for a huge closet and a giant kitchen." When the elevator doors open on the 4th floor you step directly in to the kitchen where an almost six meter long kitchen island takes center stage. "I saw this kitchen on a blog and knew I wanted it. I had never heard about this Danish company, Vipp. But I liked what I saw and the headline of the article stating ' a kitchen that matches you bin' appealed to me. My job is to build brands and I know a good brand story when I read one. I love the irony, yet quality-proof of expanding a design company based on a waste bin made in 1939." A month later, Oren flew to Copenhagen to see the kitchen in real life in the Vipp Concept Store: "I wanted something different. It had to be a Vipp kitchen and it had to be big. My friends thought I had lost my mind when I flew in a 5.6 meter long steel table top weighing xx kg and had two cranes lift it to the 5th floor through the terrace." "I grew up in the kitchen, my family is all about food, and our lives revolve around it. I have spent countless days in cooking schools in southern France and in Israel."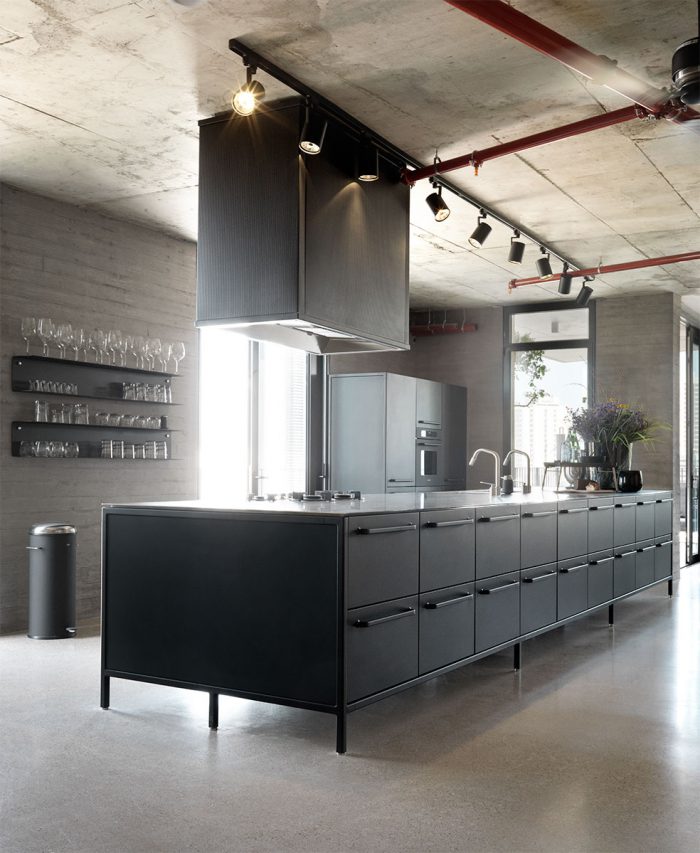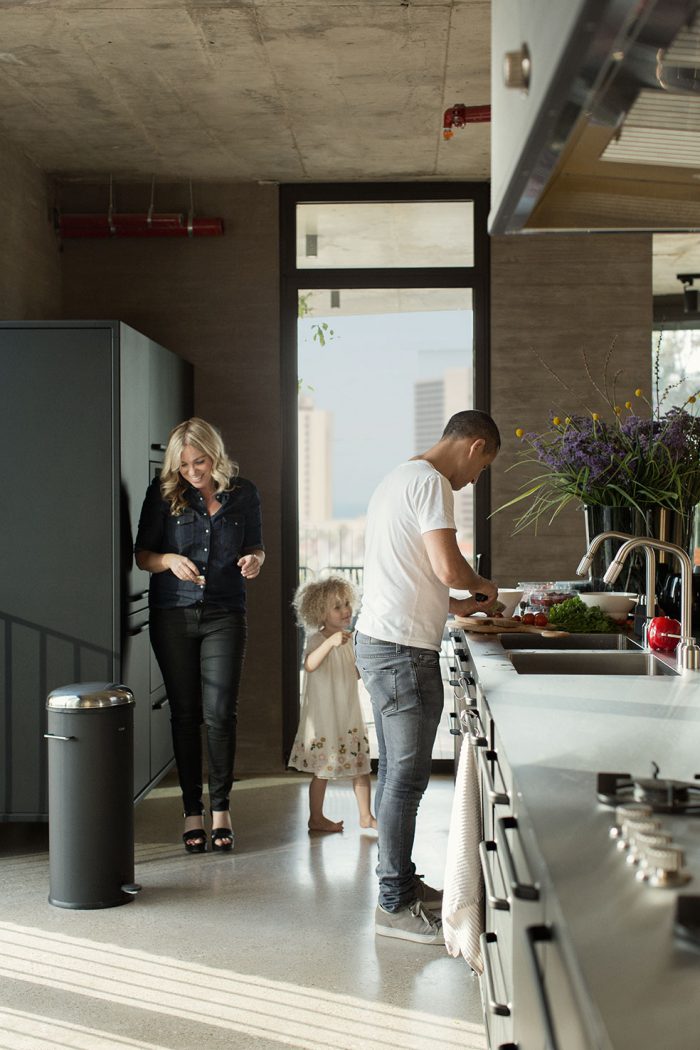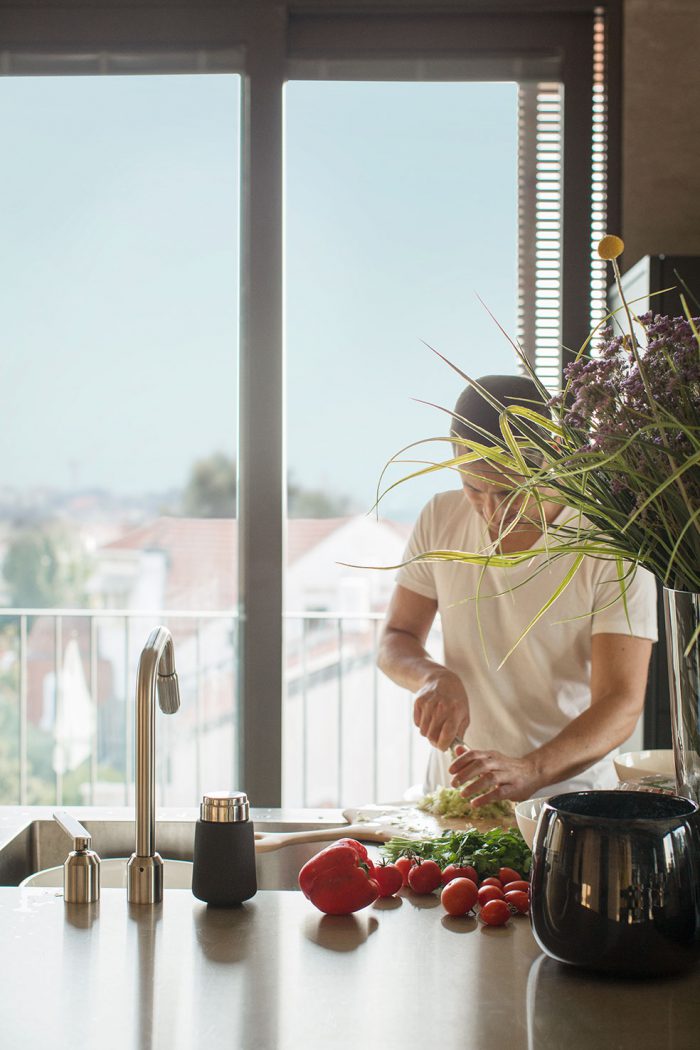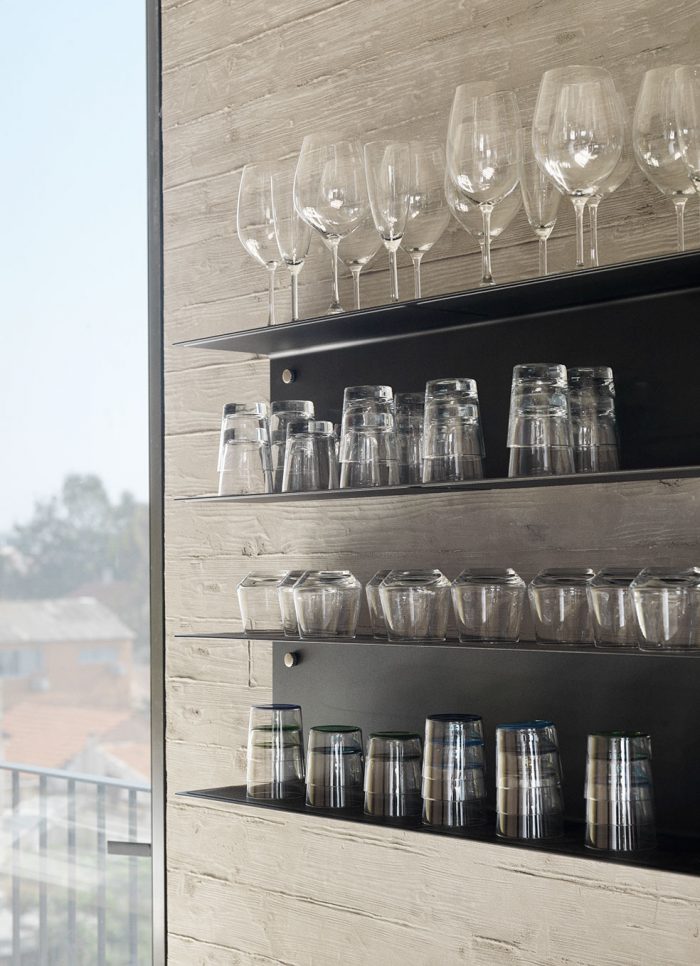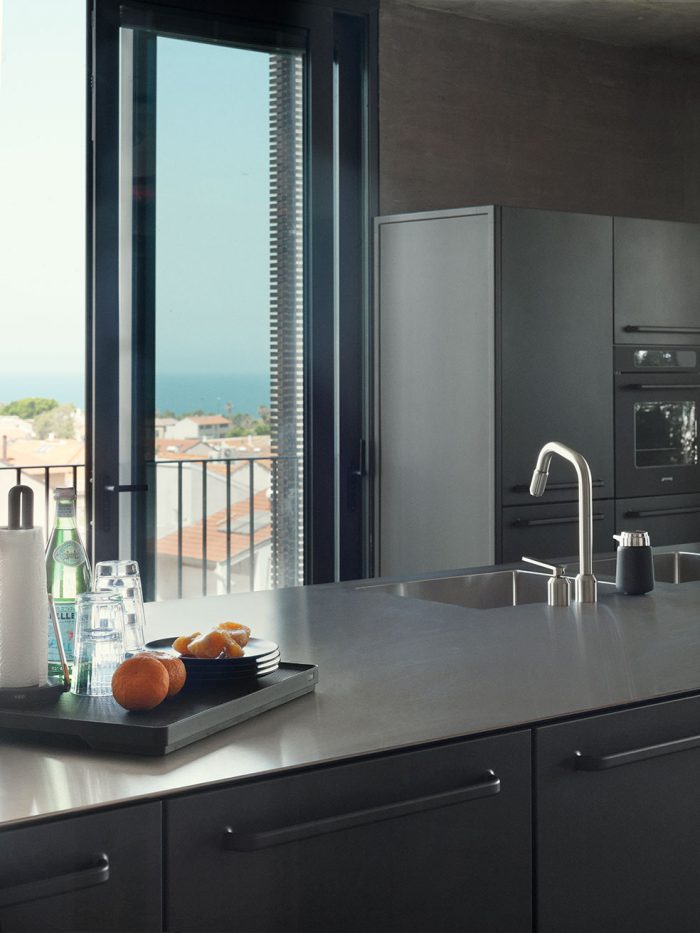 The living room
In direct connection to the kitchen lies the living room with access to a large terrace. The back wall is covered in a custom steel shelving system of frames in various sizes exhibiting Oren's vintage buys and collectors object like a museum wall. A large Vitra sofa faces the built-in fireplace that hides the only TV in the home.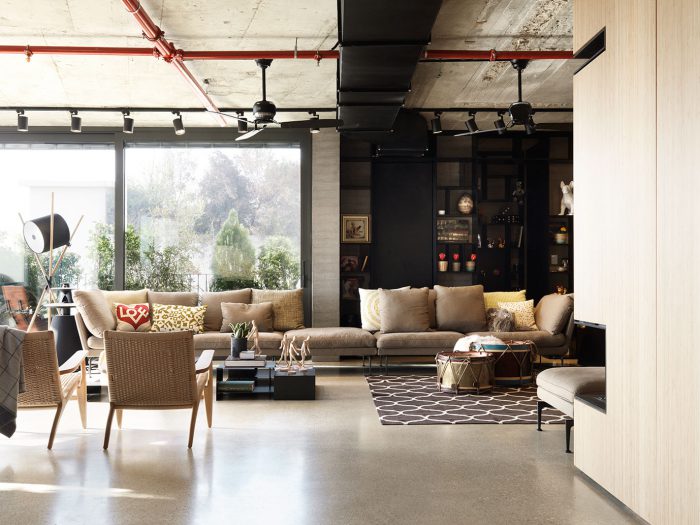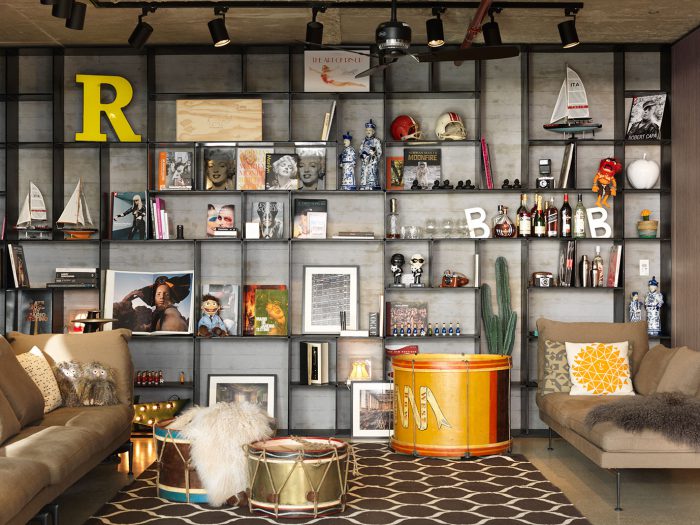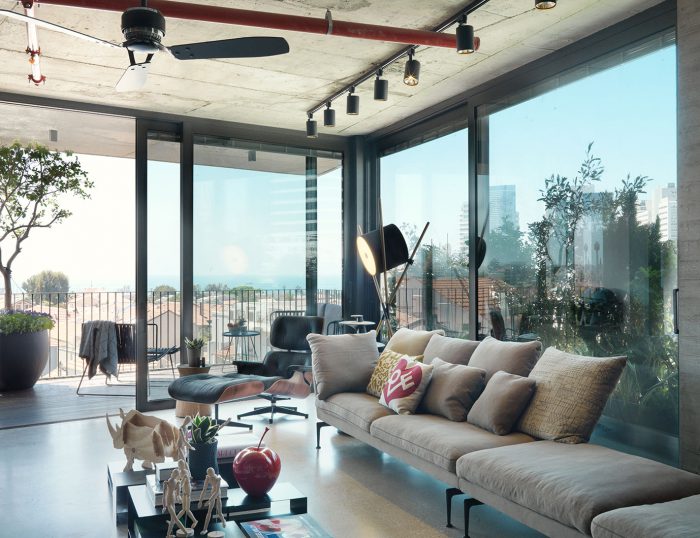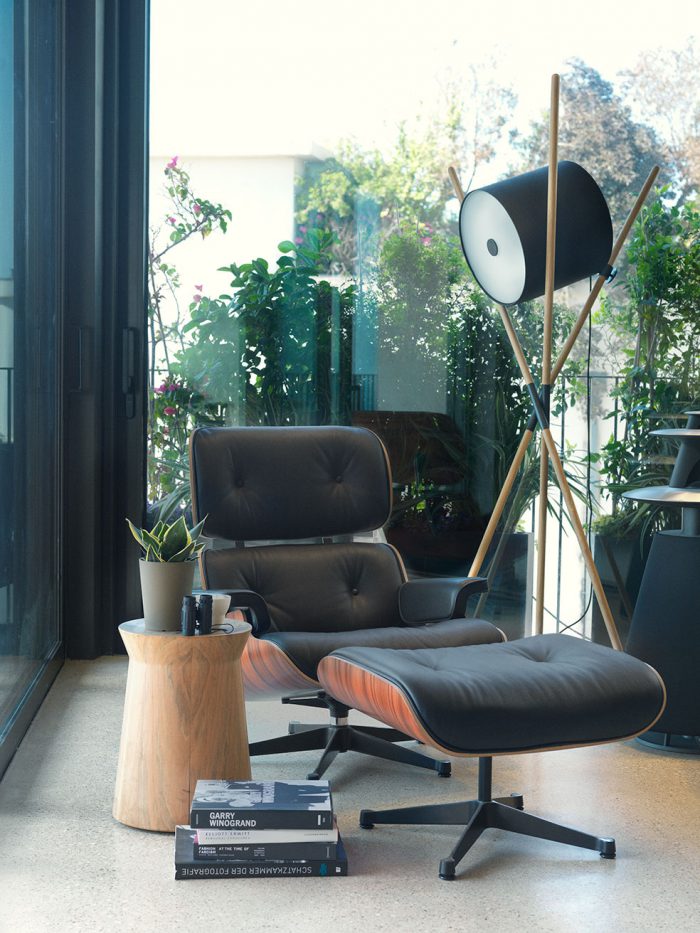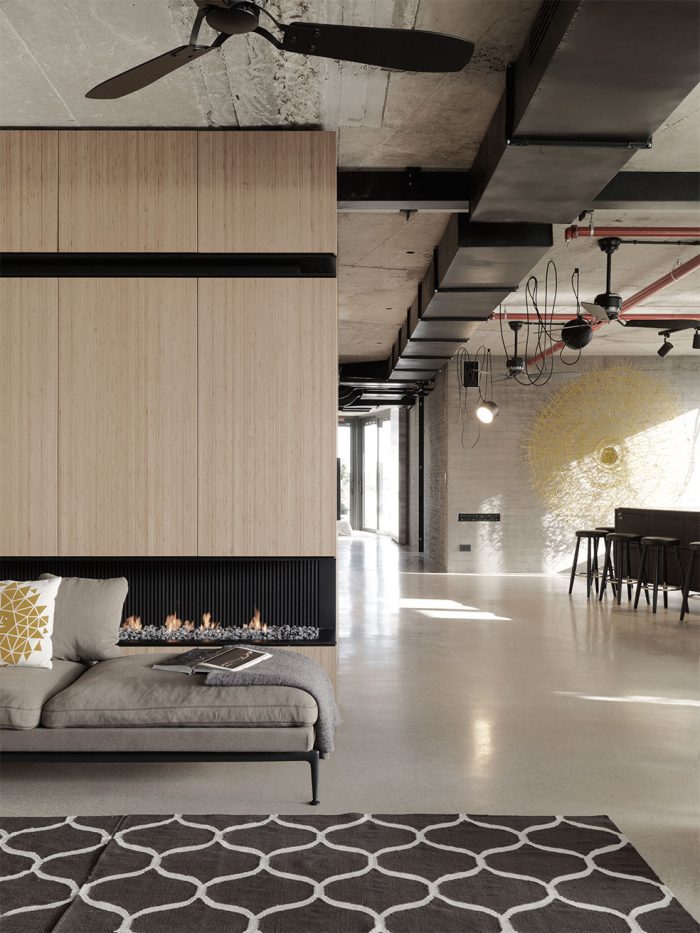 The bedroom and bathroom
"The bathroom is a room in a room and I like stepping out of bed and straight into my marble box and shower with a view to Jaffa." The 10 cm thick box is made with Italian marble from Salvatore and fitted with double shower heads from Boffi.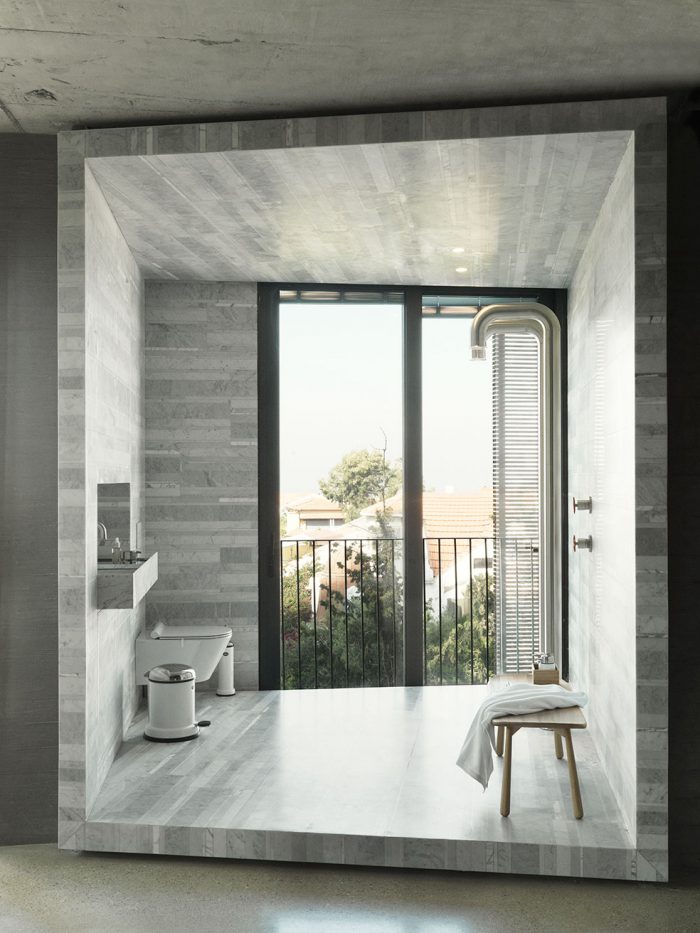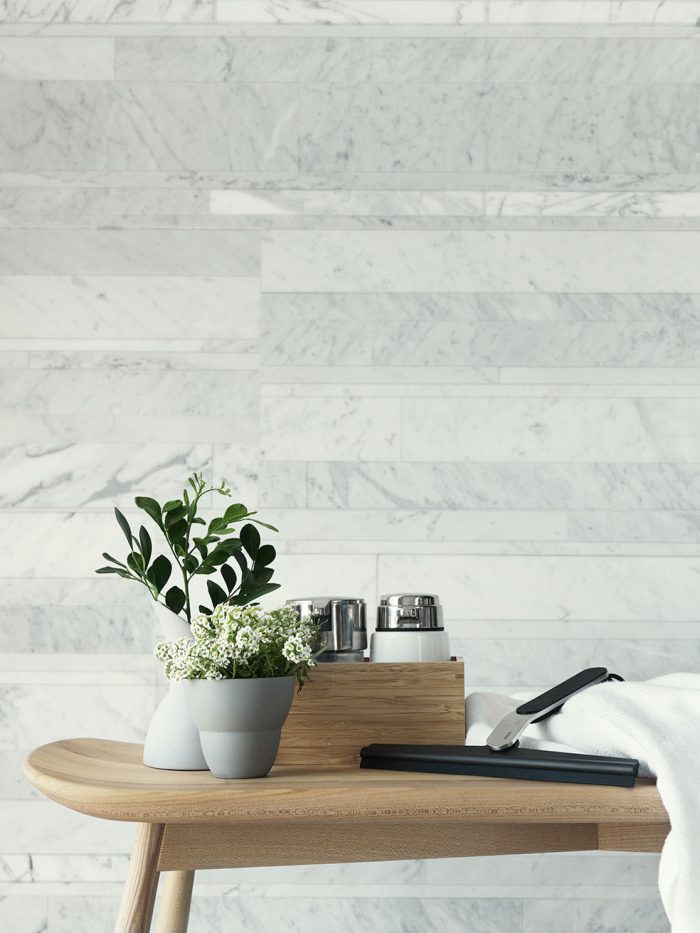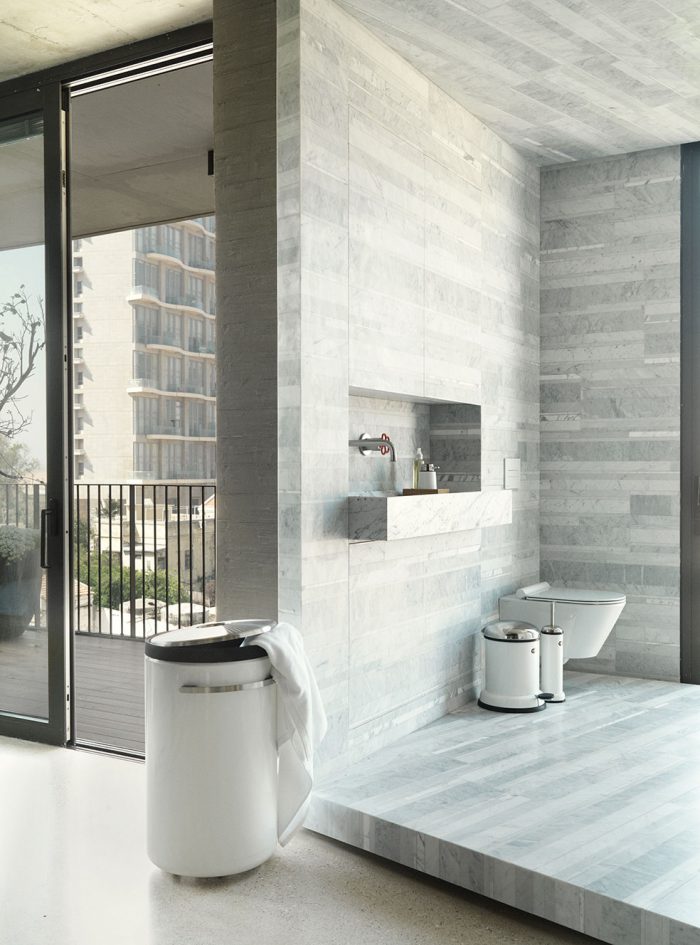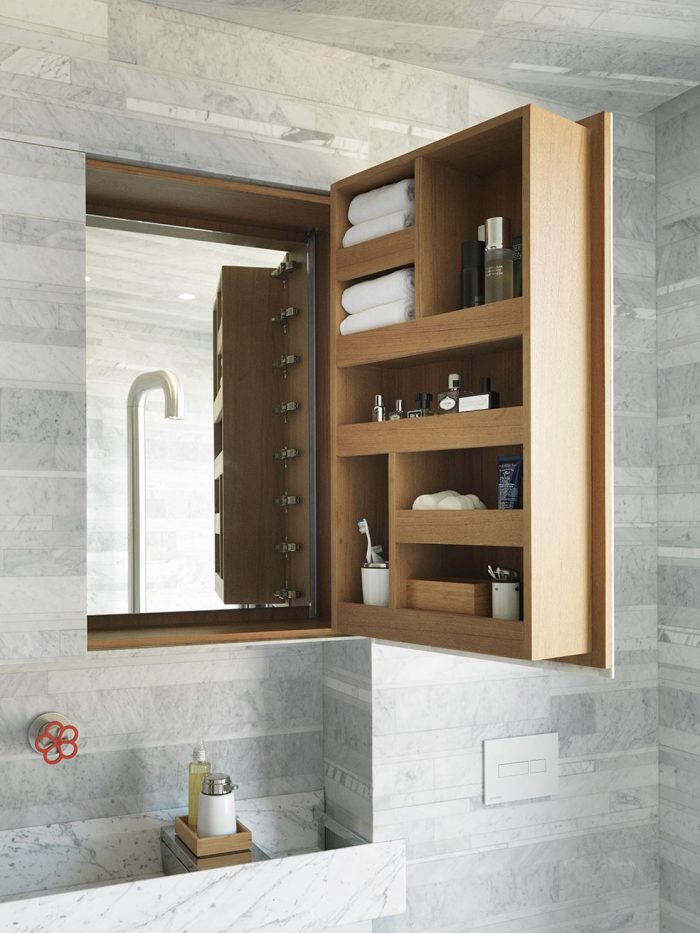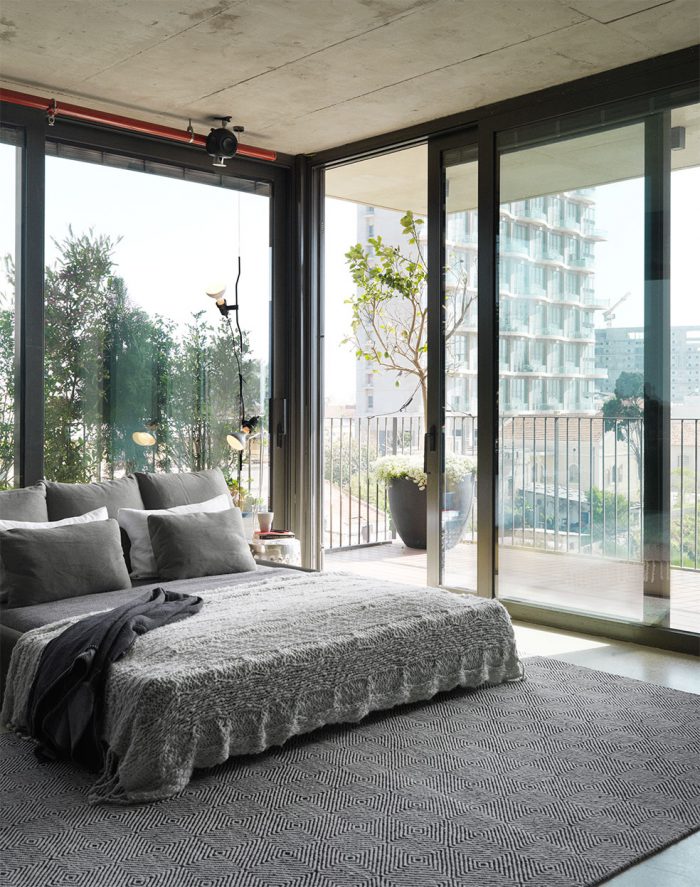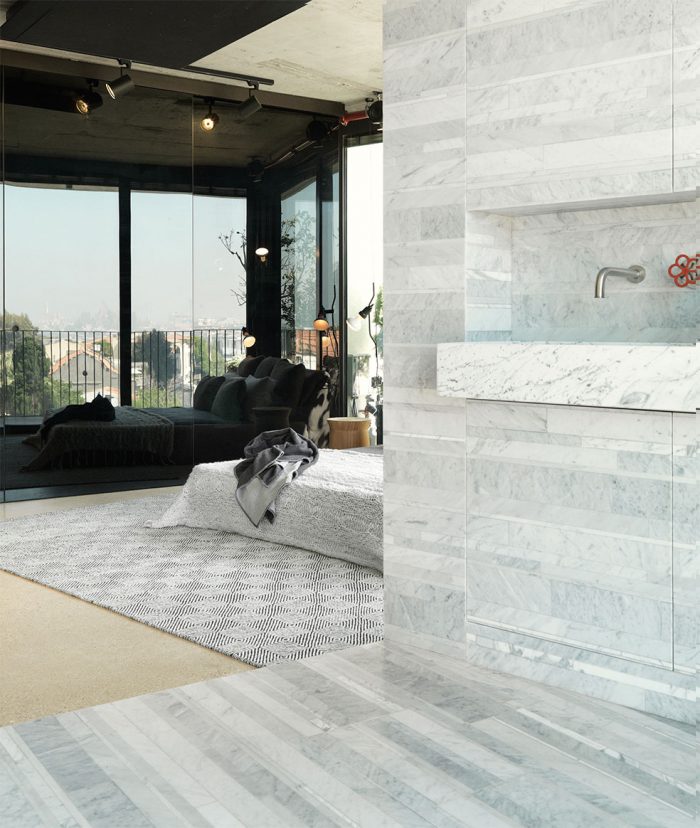 RESIDENTS  Oren Yonayov & Michal Afori, Emma (4) and Adam (1 month) live on the 4th floor. Oren's closest friends live on the other floors.
TYPE OF APARTMENT 180 m2, 4th floor apartment of a six-storey building
ARCHITECT Gidi Bar Orian – Interior Uri Palan
YEAR BUILT  2015