If only walls could speak, this Louis XVI style château build in 1750 by shipowners from Nantes, would tell the tale of how it witnessed the French revolution at first-hand, how it for a decade welcomed tourists as a bed and breakfast, and how a Dutch couple fell in love with it and with their talent for antiques and predilection for functional objects made it their own home.
The château is located by the Erdre river, a 10 minute drive from Nantes in western France. The 450m2 manor covers four floors and is built in in typical Louis XVI style in 1750 by shipowners from Nantes. The 1.4 hectare ground is encircled by four small pavilions, two of them originally an orangery and an old servant's house. The garden's big cedar trees were planted by the end of the 18th century when a relative of the first owners brought them to Europe from Louisiana, USA. Between the garden and the Erdre is a private pond full of fish object to envy and juridical chicane during the revolution. During a fishing trip in 1790, the first owner of the château, the Tiby family, was held up by five armed men, claiming that the sole rights to fishing in the Erdre still belonged to the nobleman Louis-Francois Charette, owner of the neighbour château, as they did before the revolution. A year later Charette escaped to Brussels but was dragged back and imprisoned in Paris where he as many other noblemen lost his head to the guillotine.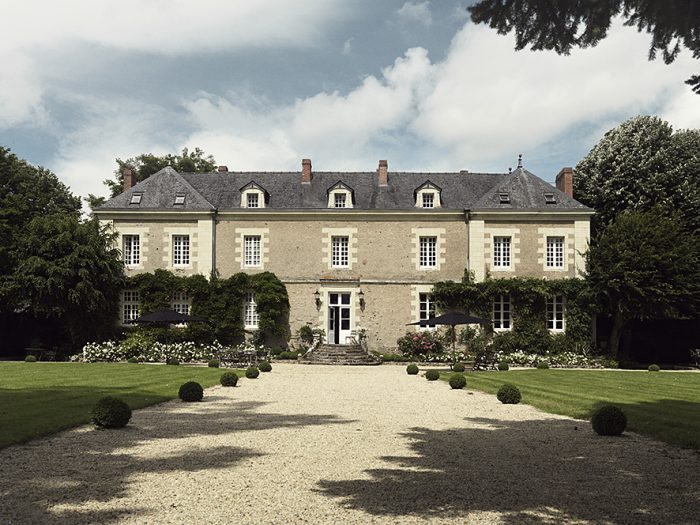 The Inhabitants
The château is inhabited by Trude and Peter and occasionally by their two children. Originally from Tiel in the Netherlands, Trude and Peter, decided ten years ago to move to Provence, Vaison la Romaine, with their two children. Here, Trude opened her antique shop 'Plein-Sud', one of the first antique dealers who introduced antique Scandinavian furniture to the South of France. A French customer once described her shop as "the best antique shop between Isle sur la Sorgue and Paris".
The restoration & interior design
Conserving the well-kept facade and interior walls, Trude and Peter, began an extensive renovation of the withered interior. Apart from most of the original flooring and the Louis XV style fireplace in the living room the interior is completely transformed. The pathway in the garden towards the river was covered with pebbles and more than 75 box trees were aligned and planted to mark the path.
With Trude's professional talent for interior design and antiques combined with a predilection for functional objects, the couple has restored this history-charged château to its former glory. The style is primarily antique furniture and accessories, family heirlooms, contrasted with few, highly modern objects, such as the kitchen. "I saw this kitchen in a French magazine and immediately asked my Danish friend to go see it in real life in Vipp's showroom in Copenhagen. We bought it without ever having seen it. But I thought that its industrial look would make the perfect contrast to our very soft interior. To us the Vipp kitchen is modern, yet timeless, which is why it fits into this historic building. I especially love how the steel kitchen interacts with the old stone floor" – Trude