Snøhetta, in collaboration with Chef Thomas Keller and Envelope A+D, has completed a new kitchen and courtyard renovation at The French Laundry in Yountville, California.
Opened in 1994, Thomas Keller's three-starred Michelin restaurant has been highly regarded as a mecca for fine French cuisine at the forefront of culinary culture over 20 years. The design is the first major overhaul to the historic site in over two decades and doubles the size of the existing landscape for guests while providing a world-class working environment for Keller and his team to innovate their craft and service. A new kitchen annex houses the French Laundry's support functions, including the butchery, produce breakdown, and wine collection, storing up to 15,000 bottles.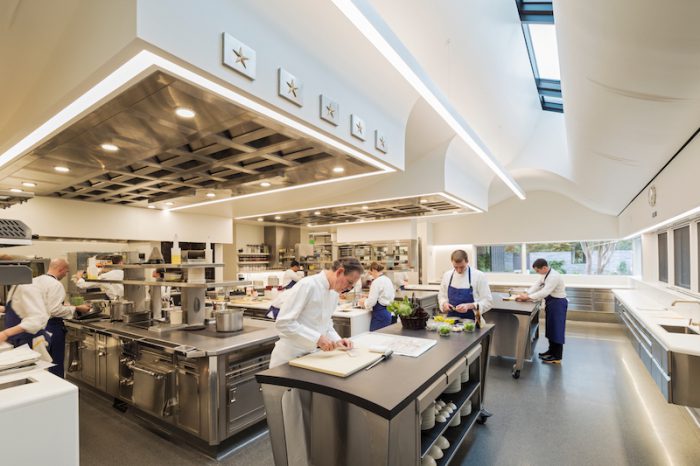 To begin the design process, the designers spent time with Chef Keller's team, observing the complex choreography of the kitchen. Through the rhythm, culture, pace, and precision of his work, Chef Keller cultivates an environment for his team to excel at creating one of the most esteemed kitchens in the world. The French Laundry has long been recognized for the culture of education and mentorship it provides its staff, and Snøhetta's design not only optimizes ef ciency but also fosters a meaningful environment for the chefs who work there, setting a stage for cuisine that ignites the senses.
The new architecture at The French Laundry is shaped by simple geometries that are both modern and reminiscent of agrarian architectural forms. The pitched, low- slung roofs of the kitchen and annex allude to their utilitarian function. Flush at the corners where the eaves of the roof meet the siding, the kitchen's streamlined body is partly clad in charred wood. The familiarity and warmth of the burned finish juxtaposes the more contemporary fritted glass that wraps around the corner of the building. Up close, the frit reveals a dense composition of layered, swooping curves, evocative of the motions of chefs' hands at work.
The French Laundry's influence on global culinary and restaurant culture is in part due to the ongoing success of its expertly trained staff, many of whom have gone on to explore their own culinary ambitions and today head some of the world's top-ranked restaurants. The creation of a thoughtful space for experimentation and collaboration along with a re-envisioned guest experience is Keller's next step in preserving that legacy.